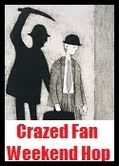 Seems like a fitting blog hop for hockey fans.
Seriously - some of ya'll are just plain CRAZY!
Just sayin'...
So today the boys are going to put it down in Detroit and hopefully get a W heading back home for Monday's game 3. Here's a round-up of some informative articles from around the web regarding the Coyotes playoff run, the ownership situation and anything else I felt was relevant...