Today is Monday - which means its Love Letters Day over at
FTLOB
.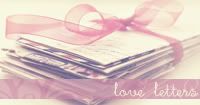 Quite fitting for Valentine's Day, don't you think? If you're like me and don't have a Valentine to swoon over for today - I hope you've found a way to make this a special day anyway. Treat yourself to a pedicure, a massage, whatever makes you feel good! If you can't love yourself - you're not going to be able to love anyone else either!
But I don't look at this day as just a day to celebrate the "significant other" in my life - whether I have one from year to year or not (and this year I do not) - it's a day to celebrate all of those who matter to me. It's a day to celebrate my family, my friends and all of the people who enrich my life day in and day out.
So tonight I intend to spend my evening at my favorite place - Jobing.com Arena - watching my favorite team with one of my favorite girls. Hopefully
our boys
can get us a win tonight! Today's Valentine's Day post is for my beautiful niece Kaitlyn. She will share with you the only 4 love letters that matter today...
L-O-V-E
All of these pictures were taken by my sister Jennifer - at their beautiful home in California.
Words can't quite express my love for Kaitlyn - She is my Sunshine!
<3 The Diva